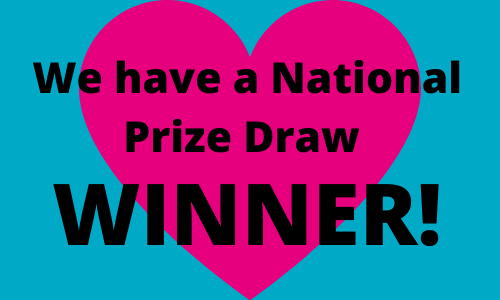 Congratulations to the Winner of the New Year National Prize Draw 2020!
03 April 2020
We are very proud to announce that Sally Woodget supporting Bromsgrove and Redditch Welcome Refugees was one of 5 lucky winners of a FiTbit and Google Nest Mini in the 1st National Prize Draw of 2020, on the 28th March 2020.
'I play the lottery to help raise funds for my chosen charity. I am a volunteer befriender with Bromsgrove and Redditch Welcomes Refugees, I am linked to a family who are resettling in Bromsgrove . They need so much support to help them understand how things work here, it must feel so alien to them and they are so alone having been separated from their extended family who are now scattered all over Europe. And I have learnt a lot about their culture too, it is such a privilege to be able to help.
Please support the lottery to help your chosen local Charity and make a difference to the lives of others.
Winning a prize has given me the opportunity to advertise the good that your support of the lottery can achieve for local charities and I hope it encourages others to volunteer to help , it is so rewarding.'
Sally Woodget, Prize winner and Supporter of Bromsgrove and Redditch Welcome Refugees

'BRWR aims to enable and empower refugees, who come to live in Redditch and Bromsgrove under a Government VPRS scheme - Vulnerable Persons Resettlement Scheme- to integrate into their local and wider community.
We raise money for a wide range of services and goods, such as buying items from, for instance, Boomerang in Redditch and Newstarts in Bromsrove to help refugees settle into their new home. We also assist refugees in establishing new business ventures to support themselves by giving out grants and interest free loans, arranging social events and outings and providing emergency payments in case of hardship.
Above: A recent video about us, made by a Syrian refugee, who is working to establish a movie-making business.
The lottery has been very beneficial to our cause because it's a reliable, regular form of funding, which involves little effort on our part. It means that we don't have to spend so much time on other fundraising efforts. The lottery has not only helped to raise the profile of BRWR but it also raises the profile of RBC and the many charitable groups working to support local people in so many different ways
Our advice to any other causes looking to join the lottery is to do it! It's an easy way to raise funds'
Peter Rendell, Committee Member, Bromsgrove and Redditch Welcome Refugees

Don't miss your chance to support a great cause and be entered into the next National Prize Draw where three lucky supporters will WIN a 12 month Fruit and Veg delivery.
Our causes are on track to raise £10,264.80 this year
329 tickets of our 1,800 ticket goal
Our causes are on track to raise £10,264.80 this year
329 tickets of our 1,800 ticket goal